Practice Your Art Anywhere & Anytime With This LED Sketching Pad!
Whether it's PAINTING, SKETCHING, OR CALLIGRAPHY, this pad will help you perfect it in no time!
Simply put the original drawing you want to practice on the pad, place the tracing paper over it, and light the LED pad so you get a CRYSTAL CLEAR PICTURE of what you'd like to copy.
Use it to draw portraits, sketches, or TEACH YOUR CHILDREN how to write neatly or improve their handwriting!
Use This Pad To Copy Perfect Drawings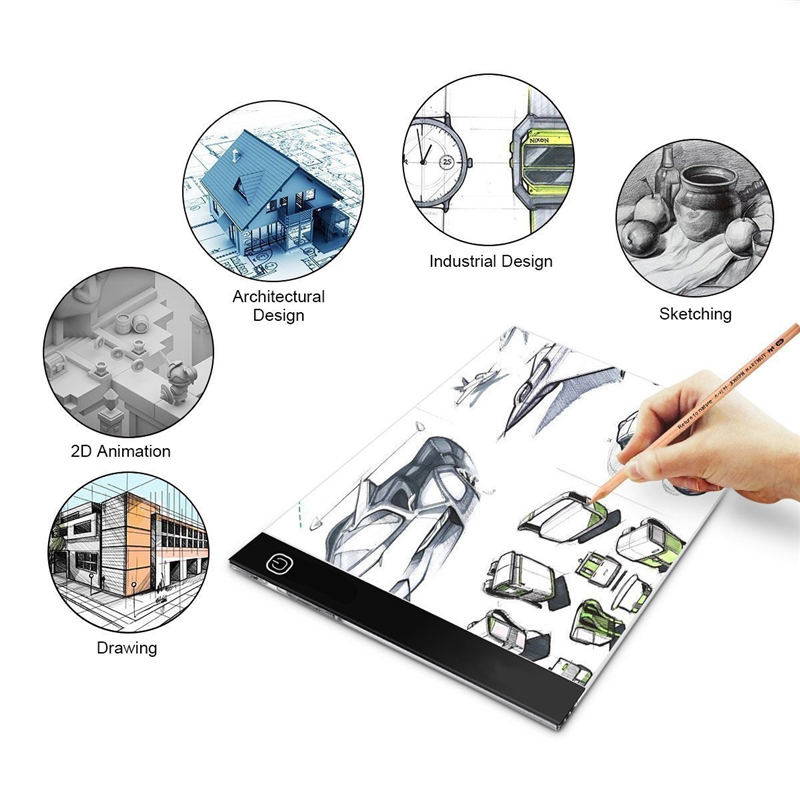 All you engineers, architects, and their students out there, TECHNICAL DRAWING has never been easier! Use this pad to copy perfect drawings, or to view different layers of buildings or circuits.
It's designed to PERFECTLY FIT A4 PAPER, with an optimally small size and a width of only 0.2 INCHES, so it's elegant and satisfying to handle, and you can take it anywhere by slipping it in your backpack, briefcase, or even just under your arm!
Never worry about power. It has a MICRO USB PORT, so you can power it up with a plug, a computer, or even a power bank.
"This light pad is awesome! It is lightweight, bright and easy to dim if needed. Great product for the price. I use it for weeding vinyl, and it's amazing! Makes weeding so much easier because I can see the cut lines so well. Highly recommend."
"The tracer was very easy to use. All it needs is a light tough. One tap to turn it on. Tap and hold to brighten then tap again and hold to dim. Tap one to turn off. Super easy. The drawing paper I use is kind of thick and the dimming of it makes it very easy to use. No eye strain. I used it in a sketchbook. Since its so thin I can just pick it up and put it between the pages. I like how the tracing paper just sticked to the device so I didn't have to tape it down to keep it from moving. I don't know if it will work for all kinds of paper but it worked for that.
I would definitely recommend it to a friend or give as a gift."
"
"I purchased this to use for sorting photographic negatives and slides, and it's going to work out just fine. I really like the adjustable brightness and light weight of the device., and the size is perfect for working on a desk or table. Even the lowest brightness level is enough for sorting negatives and slides. For tracing, it's great with nice even light. I'm sure I'll find other uses for this device in time. I'm happy with the purchase."
"
It has an ADJUSTABLE BRIGHTNESS feature so you can find the sweet spot from which you can view your sketch immaculately.
Its lighting is FLICKER FREE BRIGHT LED, which means you can spend as many hours as you want sketching on the pad without getting a headache or your eyes being strained.
And it even has light guide plate which FILTERS HARMFUL RAYS to prevent any damage even in the long term.
You don't have to use it for tracing only. You can even use it for regular drawing or calligraphy, to have a vivid image of what you're sketching and highlight its beauty for some FANTASTIC PICTURES to show your friends or share on social media!
Oh and for this price, might as well get two, one for home and one for office!